Moving
May 4, 2008 20:20:16 GMT
Post by tannis on May 4, 2008 20:20:16 GMT
Sexual Metaphor: You crush the lily in my soul...
[/i][/color]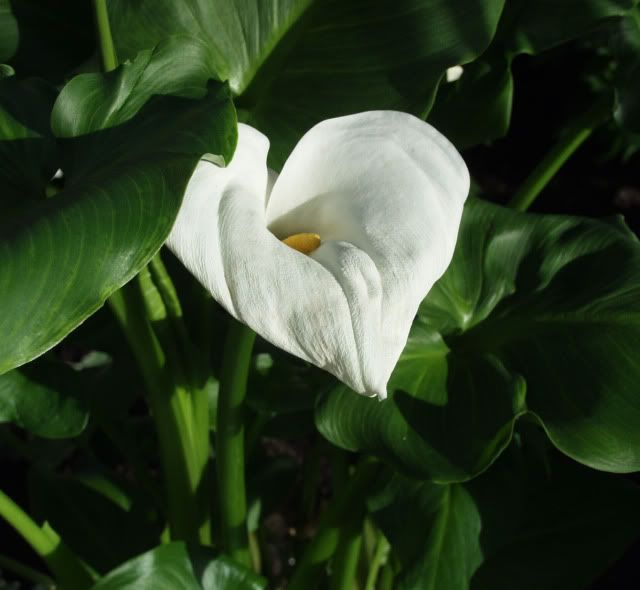 [/center]
In KaTe's second
Top Of The Pops
performance of 'Wuthering Heights', KB's piano is covered with flowers. In the
Swap Shop interview
, she refers to them as "plastic orchids".
However, could they be plastic Calla Lilies?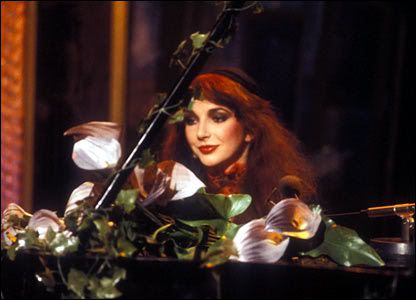 The meaning of white
Calla Lilies
is
"magnificent beauty."
They became popular in the United States when the movie
Stage Door
(1937) was released. It was the film in which Katharine Hepburn said, "The Calla Lilies are in bloom again. Such a strange flower—suitable to any occasion. I carried them on my wedding day, and now I place them here in memory of something that has died." Katharine Hepburn herself has been associated with white Calla Lilies since then, as she is as long-lasting and elegant as the flowers themselves. The word "Calla" actually comes from the Greek "Kallos," which means
beautiful
. Their scent is light, a mere afterthought.
The Calla Lily was the flower that the early Romans used to mark the passage of the winter solstice. Over time, the Calla Lily became associated with the celebration of funerals. Most likely, because they bloomed profusely during the darkest time of the year, winter solstice. Katherine Hepburn's famous whispered line, "The Calla lilies are in bloom again" in Stage Door, was a subtle reference to the dying of the light.
The flower became even more popular with artists after Freud provided a sexual interpretation of its form that added new levels of meaning to depictions of it.
The Calla Lily soon became a recurring motif in works by important painters and photographers, particularly Georgia O'Keeffe, who depicted the flower so many times and in such provocative ways, that by the early 1930's she became known as "the lady of the lilies."
Kate Bush - Wuthering Heights 1978
www.youtube.com/watch?v=6vBOdvzt3-4
Two Calla lillies on pink, O'Keeffe, 1928,
oil on canvas, 101.6 x 76.2 cm
Those who come prepared for sexual metaphors in the work of Georgia O'Keeffe will find beautiful abstractions full of provocative orifices and ambiguous folds.
and see:Kate Bush - Moving
www.youtube.com/watch?v=uSX0LEuXRok
0.54Kate Bush Swap Shop interview
www.youtube.com/watch?v=TvAEqK-G4w8
2:35 -
I:
True. I was lucky enough to be on your first Top Of The Pops and ...
K:
It was my second one actually, if I remember.
I:
Was it the second one?
K:
Yeah.
I:
That was with that song.
K:
Yes.
I:
I remember you being incredibly cool when things were getting a little bit heavy [Kate laughs] because you couldn't get the timing right with Johnny Pearson's orchestra and Johnny was trying to be sympathetic and sort it out.
K:
That's right.
I:
And the terrible time problems recording Top Of The Pops. You really kept calm about the whole thing, I thought that was quite amazing. Have you found it difficult to adapt at all to some of the pressures of television or live appearances.
K:
Well, it's such a strange process the whole thing, you know. Like you get very nervous before you come on, and then when you're actually doing it you're so concerned about giving your best that... I was quite happy to say "Um, 'cuse me, can we just stop and do it again"
I:
There was a problem with orchids all over the piano, wasn't there.
K:
Oh, yes! Plastic orchids. They were worried that they were going to blow up, you see, and the whole place would go up in flames.
gaffa.org/reaching/iv79_ss.html